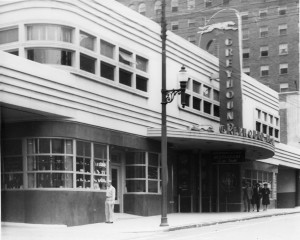 On this day in 1941, the Winston-Salem Journal reported that the new bus terminal was taking shape.
Work on the new bus terminal began about two month before.  The terminal was being built in the 400 block of Cherry Street, behind the Robert E. Lee Hotel.  It would extend through the block to Marshall Street.
Buses would enter the terminal on the Cherry Street side and exit on the Marshall Street side.
The photo above shows the completed terminal.
Photo courtesy of Forsyth County Public Library Photograph Collection.