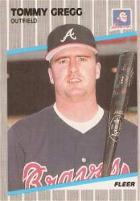 William Thomas "Tommy" Gregg was born on this day in 1963, in Boone.
He graduated from R. J. Reynolds High School, and graduated  from Wake Forest University in 1985.
He played baseball in high school and college, and was an Atlantic Coast Conference All-Star in 1982, 1983, and 1985.
He was drafted by the Pittsburgh Pirates in the 7th round of the 1985 amateur draft.
Tommy played in his first Major League baseball game in 1987 for the Pittsburgh Pirates.
During his career, he also played for the Atlanta Braves, Cincinnati Reds and Florida Marlins.  He mostly played in the outfield.
Tommy made his last Major League appearance in 1997, playing for the Atlanta Braves.
Since 1999, he has worked as a coach for a variety of teams.  His most recent team was the Omaha Storm Chasers.