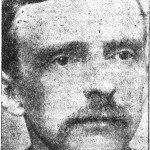 George Hanes Rights was born on this day in 1858, in Salem, to Constantine L. and Lizzie Hanes Rights.
He attended the Salem Boys School, where his father was a teacher.  He left school at age 13, and after the Civil War he began working in the printing business at Blum's printing office.  This business was known as the People's Press, owned by L. V. and E. T. Blum.  They also published Blum's Farmers' and Planters' Almanac.
After his apprenticeship, he worked for the Western Sentinel as foreman and local editor.  The newspaper was published by George H. Mathis, then was sold to Edward A. Oldham.  Rights left the Western Sentinel and joined the Union Republican, which was published by J. W. Goslen.  He was connected with this newspaper for thirty-seven years, for most of the time as managing editor, and was popular among the local citizens.
George married Jessie M. Shore in 1898.
When he passed away in 1922, it was mentioned that the newspaper readership will miss his "stirring editorials and graphic news stories."  The comment was also made that he was "one of the most industrious newspapermen in the state."
Photo courtesy of Forsyth County Public Library Photograph Collection.