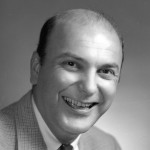 William Howard "Bill" Lamberti was born on this day in 1915, in New York.
He came to Winston-Salem about 1935 and worked as a hair stylist at the Junior League Beauty Parlor and the Anchor Beauty Salon.
In 1940, he opened the Lamberti Beauty Salon in the Nissen Building.  This was formerly the location of the Gilda Beauty Salon.  The Lamberti Salon advertised "individualized hair styling, corrective treatments for hair and scalp, courtesy, and cleanliness.  There were three women on the staff, with Mr. Lamberti working as proprietor and director.
Lamberti was one of the original tenants in the Thruway Shopping Center when it opened in 1955.
Bill passed away in 1988.
Today, Lamberti's Salon and Day Spa is located on Miller Street.
Photo courtesy of Forsyth County Public Library Photograph Collection.