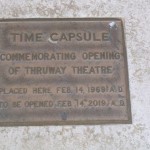 The new Thruway Movie Theatre had a special feature that was visible to everyone who visited the theatre.  On the sidewalk in front of the theatre was a plaque that announced a time capsule that was to be opened in 50 years, in 2019.
The Thruway Theatre has been replaced by a variety of businesses, such as the Hand and Stone Spa, but the time capsule remains embedded in the sidewalk.  In 2014, the year 2019 doesn't sound quite so far away…it's just around the corner, and then everyone will know what was important enough to to be included in the time capsule in 1969.
Photo courtesy of Molly Grogan Rawls.