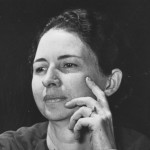 Mamie Hegwood was born on this day in 1901, in Salem, to William and Mary Hegwood.
She began writing for the Winston-Salem Journal when she was in high school, and was paid for her writing by the inch.  She was hired as a member of the staff in 1923.
Mamie covered any and all types of news, virtually every beat in the city, from schools to hospitals to churches, to courts to city government and police.  She also covered the large stories, including murders, missile launches, and moonshine and lottery raids.
She also covered every Easter Sunrise Service here for 30 years.
She married George W. Braddy in 1938.  The photo shown here was made in 1938.
Mamie retired from the Twin City Sentinel in 1966, and worked for the Red Cross.  She passed away in 1970.
Photo courtesy of Forsyth County Public Library Photograph Collection.