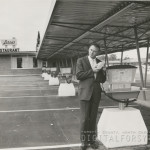 Lawrence Staley announced on this day in 1960 that he has purchased Leroy's Restaurant at Northside Shopping Center.  It has operated since last May as Leroy's Restaurant, but will open tomorrow as Staley's Northside Restaurant.
The photo above shows Ralph Eaton at the opening of Leroy's Restaurant.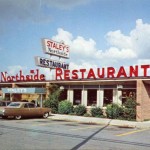 This is Staley's fifth restaurant in Winston-Salem.
The restaurant will seat more than 150 people, with booth, table and counter service available.
Leroy's photo courtesy of Forsyth County Public Library Photograph Collection.
Staley's photo courtesy of Molly Grogan Rawls.