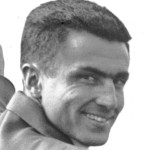 Julian Gibson (1922-2015) grew up at the Children's Home in Winston-Salem, and graduated from R. J. Reynolds High School in 1942.  Julian was elected treasurer of his senior class, and was voted "Best Looking," "Most Popular," and "Most Athletic" by his classmates.  Julian played football for the Children's Home,  and played basketball and baseball for Reynolds.
After graduation, he served in World War II as the fighter pilot of a Hellcat off the USS Cabot.  After the war, he graduated from Lenoir Rhyne College.
Julian began his teaching career at Mineral Springs High School, where he taught and coached.  Following his time at Mineral Springs, he became principal at South Fork, which included grades 1-12.
In 1955, Northwest High School opened, pulling students who would normally attend Old Town School, Mineral Springs, and other schools that covered grades 1-12.  Old Town, Mineral Springs, and others became elementary schools covering grades 1-8.
Gibson became the principal of the new Northwest High School and remained there until 1963, when Northwest became a junior high school.  Gibson was the only principal of Northwest High School during its 8 years of operation.
In 1963, Gibson was appointed principal of the new North Forsyth High School which covered grades 10-12.  He remained at North Forsyth until his retirement in 1984.
In retirement, Gibson has the opportunity to spend more time on his hobbies, such as golf, gardening, bridge, cooking, and keeping up with friends and family, which certainly includes his children, grandchildren, and great-grandchildren.
He also has the opportunity to re-connect with the thousands of students who recall his smiling face and his friendly and even-handed, father-like manner, as he led these schools through four tumultuous decades.
Gibson Elementary School, located on Walker Road, is named in his honor.
Even students who only  heard of Mr. Gibson by reputation felt led to honor him with the dedication of the 2013 North Forsyth High School yearbook.
So today, Mr. Gibson, this former student joins with thousands of your former students, teachers, and family who remember your birthday and send our Happy Birthday greetings to you on your special day.  Best wishes for continued good health and much happiness!
Photo courtesy of Forsyth County Public Library Photograph Collection.