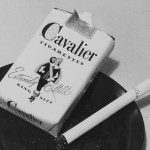 On this date in 1949, R. J. Reynolds Tobacco Company announced in the Winston-Salem Journal that the company has begun manufacturing a "king-size" cigarette, named Cavalier.  The cigarette will be available for purchase the following week in Winston-Salem, and in certain test markets.  However, all RJR employees received a complimentary pack of the cigarettes on March 3rd.
The company poured many advertising dollars into the new product, and some imagination as well.  A notable promotion was called the "Cavaliercades" which were parades in which salesmen dressed as seventeenth-century cavaliers, and pretty young women rode in cars decorated with the red and white colors of the Cavalier package.  Loud speakers and horns accompanied their presentation of the first carton of Cavaliers to the mayor of a test market city.  This advertising campaign continued in towns and cities throughout the country for nearly a year.
The Cavalier cigarette was soon eclipsed by the introduction of the filter-tipped Winston cigarette, and advertising dollars were directed toward Winston, while sales and popularity of  Cavalier declined.
Photo courtesy of Forsyth County Public Library Photograph Collection.