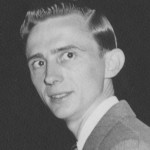 Bill Ray was born in Winston-Salem in 1925.  As a teenager, he began working as a photographer for the Twin City Sentinel and the Winston-Salem Journal.  After serving his country in World War II, aboard the U. S. S. Enterprise, he returned to Winston-Salem and began his lifetime career as photographer for the same Journal and Sentinel newspapers.
As a newspaper photographer, he photographed all kinds of people, places and events for nearly 40 years.  His photographs appeared regularly in the local newspaper, and in other publications.  He also photographed for local businesses, and loved to take pictures of the beach.  In the latter part of his career, he managed the photo department for the newspaper.
Bill donated his photographs to the Forsyth County Public Library, and many of these images can be seen today in publications and on display in local buildings.  Some of his images can be viewed at www.digitalforsyth.org.
Although Bill passed away in 2008, his photographs exist to show us how he saw the people, places and events that shaped our city.
Photo courtesy of Forsyth County Public Library Photograph Collection.