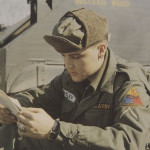 On this date in 1956, Elvis Presley came to Winston-Salem and performed at the Carolina Theatre on West Fourth Street.
Elvis performed three shows before a screaming crowd on the Carolina Theatre stage.  Winston-Salem Journal columnist, Roy Thompson, wrote about the event: "A most remarkable young man named Elvis Presley came to town yesterday and rocked the staid old Carolina Theatre to its very dignified roots."
Elvis' music career was interrupted briefly when he served in the military.  The photo shows Elvis at mail call in 1959.
Photo courtesy of Molly Grogan Rawls.