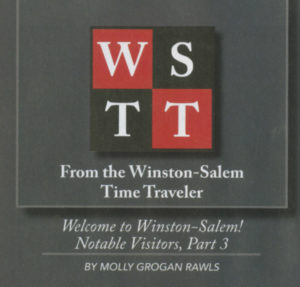 The September 2017 Winston-Salem Time Traveler feature is found on page 80 of Forsyth Woman Magazine.
The title of the feature is "Welcome to Winston-Salem! Notable Visitors, Part 3."  The third article in the series focuses on people who came to Winston-Salem to entertain.  The entertainment venues are discussed, as are the renowned people who attracted crowds, even in the early days of their careers.  See photos of these entertainers and find out when they made their marks on Winston-Salem.
Stay tuned for the next historical post on September 15th: Forsyth County's Central Library – Then & Now.