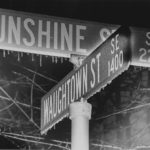 The Winston-Salem Board of Aldermen passed an ordinance in 1916 that changed the names of several streets in Winston-Salem.  The head of Public Works also recommended that street name signs be erected all along the entire length of some of the major streets.
Also, the Street Committee recommended that someone be hired to go to each house in Winston-Salem and leave the correct house number and instructions for placing this number in a conspicuous place within a few days.
Here's a list of the old and new street names:
Old Name………………New Name
Old Town Rd. (near Peters Creek)….Cherry Street
North Summit Street…Manly Street
Shallowford Road…Shallowford Street
Shallowford Street (4th to 4th)…Burke Street
Windemore Blvd. (in Crafton Heights)…Crafton Street
Pine Street…Marshall Street
Mickey Road…14th Street
Lenoir Street…14th Street
Concord Street…14 ½ Street
Durham Street…14 ½ Street
Graham Street (west of Liberty St.)…15th Street
Henderson Street (east of Liberty St.)…15th Street
Ledgewood Street…16th Street
Fairview Street…16th Street
Lindsey Street…17th Street
Lewis Street (east of Liberty St.)…17th Street
Engle Street…18th Street
Knott Street…18th Street
Pearl Street…19th Street
Windem Street…20th Street
Mineral Street…21st Street
Nicholson Street…22nd Street
Balsey Street…23rd Street
Salvador Street…24th Street
Cutchens Street…24th Street
Tatem Street…24th Street
Reynolds Street…25th Street
Snyder Street…25th Street
Rochester Street…26th Street
Oconeechee Street…27th Street
Woodberry Street…28th Street
Belews Creek Street…Belews Street
The photo shown above is a much later street sign image, although the design of the 1916 signs was similar.  Photo courtesy of Forsyth County Public Library Photograph Collection.