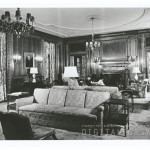 The Winston-Salem Journal printed an announcement on this day in 1948 involving the Graylyn Estate.
Dr. C. C. Carpenter, dean of the Bowman Gray School of Medicine, announced a grant of $60,000 by Mrs. Benjamin F. Bernard for the purpose of remodeling Graylyn.   Mrs. Bernard was formerly Mrs. Bowman Gray.  The estate, which was given to the medical school, will be remodeled into a hospital for rehabilitation and convalescence.
The above photo shows the interior of Graylyn.
Photo courtesy of Forsyth County Public Library Photograph Collection.