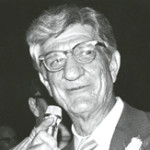 Austin Edward Burke Jr. was born on this day in 1912, in Winston-Salem, to Austin Edward and Lillie Transou Burke.
Austin graduated from R. J. Reynolds High School.  He was employed by Duke Power Company for 39 years, and he retired in 1976.
Austin was co-director of the Salem Band and directed the Easter Band in 1942, during the illness of band director, B. J. Pfohl.  Austin succeeded B. J. Pfohl as director of the Salem Easter Band in 1947, and retired from his director position in 1972.  He served as director emeritus until his death in 1988.
Austin was a life-long member of Calvary Moravian Church.  He taught the Burke Fellowship Sunday School Class at Calvary for 50 years.  A classroom is named in his memory at Calvary Moravian Church.
He was married to Ruth Carter Burke.
Photo courtesy of Forsyth County Public Library Photograph Collection.