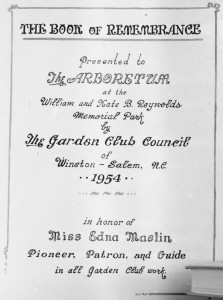 The Garden Council members announced on this day in 1954 that they have given "The Book of Remembrance" to the Tanglewood Arboretum fund.  It was given in honor of the late Miss Edna Maslin.
Any person who made a gift of money to the arboretum in memory of someone, would have their name inscribed in the book.
Miss Maslin was the honorary life president of the Garden Club of North Carolina Inc.
Photo courtesy of Forsyth County Public Library Photograph Collection.