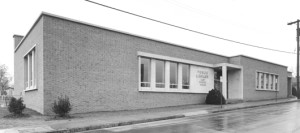 The new East Winston Library was dedicated on this day in 1954.  The library was located on East Seventh Street, and it was built to serve African Americans.
The library opened to the public the following day.  It was built with many of the same features found in the Main Library on West Fifth Street, which opened in 1953.
The library's name was changed to Malloy-Jordan/East Winston Heritage Center in 2004.
See other images of the new East Winston Branch Library and dedication at www.digitalforsyth.org with key words: east winston branch library 1954.
Photo courtesy of Forsyth County Public Library Photograph Collection.