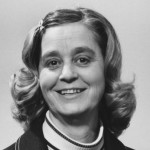 Ernestine Brim Wilson was born on this day in 1929, in Stokes County, to Paul Ernest and Inez Wilson Brim.
Ernestine moved to Winston-Salem in 1953, and was a retired employee of the City of Winston-Salem and the State of North Carolina.
She was elected to the Board of Aldermen in 1971, making her the first female member of the board.  She served on the board until 1985, with thirteen of those years as Mayor Pro-Tem.  She was defeated in 1985, after four terms of office.
After serving as an alderman, Ernestine was the first Victim's Assistance Coordinator for the Winston-Salem District Attorney, and served in that capacity for five years.
Ernestine was married to Charles Richard Wilson.  She passed away in 2011.
Photo courtesy of Forsyth County Public Library Photograph Collection.