Before construction   Laying the foundation Digging the basement  Starting the walls
Forming walls             Inspecting the work    Beginning the roof        Adding more roofing
Filling in with lumber   Building the steeple    Adding front steps    Admiring the finished church
The first service was held in the new sanctuary on March 20, 1932, and the church was dedicated in August 1940.
The photo below is a view of Ardmore Moravian Church in 2014.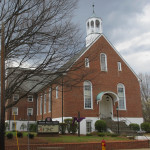 Black and white photos courtesy of Forsyth County Public Library Photograph Collection.  Current photo by Molly Grogan Rawls.