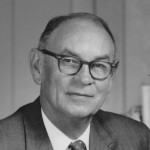 Colin Stokes was born on this day in Winston-Salem in 1914, the son of Henry Straughan and Eloise Brown Stokes.
Colin graduated from R. J. Reynolds High School, the McCallie School, and UNC, with a degree in Commerce.
He served in the U. S. Army during World War II.
Colin began his career at R. J. Reynolds Tobacco Company in 1935, following his graduation from UNC.  His first job was working as a foreman in Factory No. 12.  He was named superintendent of manufacturing in 1956, then he was elected to the board of directors in 1957.  He was promoted to vice-president in 1959, and to executive vice-president in 1961.
Then, in 1970, he became chairman and chief operating officer, and chairman of the executive committee of R. J. Reynolds Tobacco Company when it became a subsidiary of R. J. Reynolds Industries.  He was elected chairman and chief executive officer in 1973.  He retired as an officer of the company in 1979 and from the Board of Directors in 1984.
Colin Stokes spent his entire working career at R. J. Reynolds Tobacco Company and Industries, from 1935 to 1984.  During that time he saw many changes take place in the tobacco industry, and he saw R. J. Reynolds become a multinational corporation in many areas of business.  Colin passed away in 1984.
Photo courtesy of Forsyth County Public Library Photograph Collection.