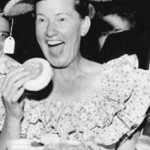 The Winston-Salem Journal announced on this date that the third Minnie Pearl's Fried Chicken take-out restaurant  opened in Winston-Salem.  It was located on the corner of Eden Terrace and Cloverdale Avenue.
The restaurants bore the name of the Grand Ole Opry star, Minnie Pearl.  The first restaurant opened in town in 1968.  The restaurants were short-lived, both in Winston-Salem and throughout the United States.  The building at Eden Terrace and Cloverdale Avenue is used today for the Grecian Corner Restaurant.
Minnie Pearl came to Winston-Salem in 1960 to entertain at the National Grange Convention.  The photo shows Minnie Pearl enjoying the barbecue dinner that was served at the convention.
Photo courtesy of Forsyth County Public Library Photograph Collection.