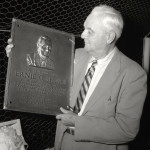 The new baseball field on the corner of Shorefair Drive and Thirtieth Street was named in honor of Ernie Shore, former Forsyth County Sheriff and Boston Red Sox pitcher.  The first baseball game was played at the new stadium in April 1956.
Shore pitched for the Boston Red Sox in 1917 and threw a perfect game against the Washington Senators.
The land for the baseball stadium was donated by Charles Babcock, and it was well suited for the purpose because it was a naturally-shaped partial bowl.  Ernie Shore helped raise money to fund the park.
Photo courtesy of Forsyth County Public Library Photograph Collection.