The Christmas Song, written in 1945 by Bob Wells and Mel Torme, begins with these words:
"Chestnuts roasting on an open fire…"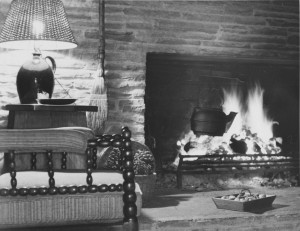 "Jack Frost nipping at your nose…"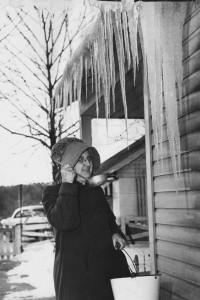 "Yuletide carols being sung by a choir…"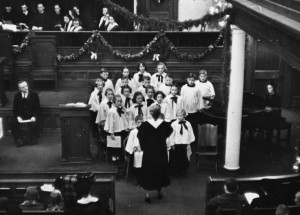 "And folks dressed up like Eskimos."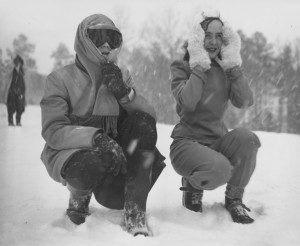 We all have special memories of Christmases past – and so does Winston-Salem:
The lighted tower at Thruway Shopping Center…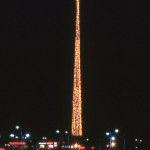 The Coffee Pot festooned with a red bow…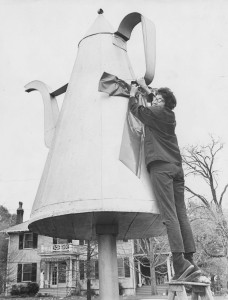 Children looking longingly through store windows…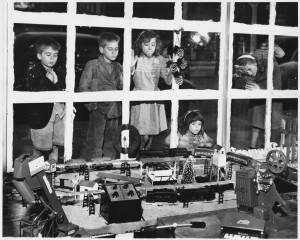 Houses decorated inside and out…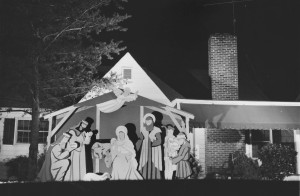 And the Christmas pageant with a real baby.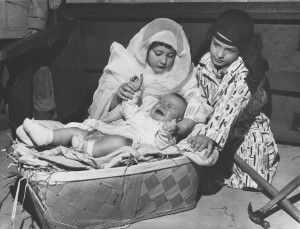 Over the years, Santa's arrival in the Christmas parade opened the Christmas season in Winston-Salem.  The nativity scene over the entrance to Sears Roebuck was a familiar sight in 1962 to West Fourth Street shoppers.  See more Christmas parade photographs from years past at www.digitalforsyth.org.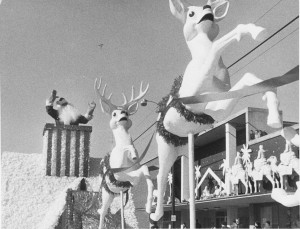 Before shopping centers and malls were built, shoppers came downtown to shop.  In 1938, there was even an A&P grocery store located on West Fourth Street.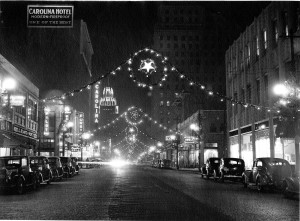 Shoppers braved the cold to go from store to store in the mid-1950s looking for gifts and enjoying the decorated store windows.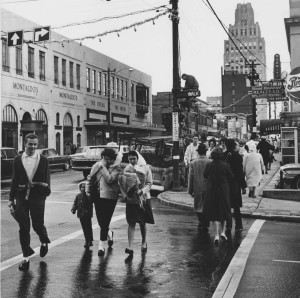 And the family piled into the car in 1954 to drive downtown to see the Christmas lights.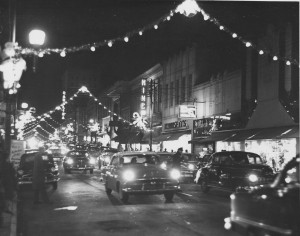 A trip to Tiny Town in 1957 was sure to fill all wish lists and make Santa's life a little easier.
The Children's Home began a tradition around 1930 of lighting their large Christmas tree which was visible from Reynolda Road.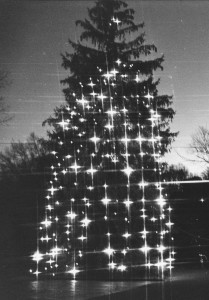 The nativity figures that appeared every Christmas over the West Fourth Street entrance to Sears Roebuck, have been repaired, repainted and expanded, and have graced the lawn of the Children's Home since 2007.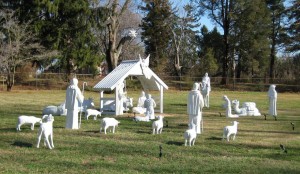 Black and white photographs courtesy of Forsyth County Public Library Photograph Collection.
Color photograph of the WTOB tower courtesy of Dave Montgomery.
Color photograph of nativity figures courtesy of Molly Grogan Rawls.
Stay tuned for Part 2 of Christmas Memories in Winston-Salem on December 15th.