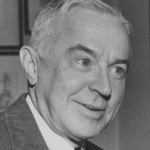 William King Hoyt was born in Saratoga County, New York, in 1889.  He graduated from Swarthmore College and was employed by the Trenton, New Jersey, Times from mid-1912 to 1924.  During that time he served in the military from 1917-1918.
He came to Winston-Salem in 1925 to be general manager of the Winston-Salem Journal.  When the Journal and the Sentinel came under joint ownership, he was general manager of the Twin City Sentinel as well.
Gordon Gray bought the newspapers in 1938 and retained Hoyt to run them.  Hoyt was also president of Triangle Broadcasting Company which ran the broadcasting affiliates, WSJS radio and television.  WSJS television became WXII television.
Hoyt retired as publisher in 1959, and the next year he became executive director of Old Salem Inc.  Since 1949, he was involved in planning the restored town of Old Salem, and was one of the 17 incorporators of Old Salem Inc.  Hoyt and his wife, Miriam Efird Hoyt, lived in Old Salem, in the Ebert-Reich house they restored in 1937-1938.
Roy Thompson, staff reporter and feature-writer, wrote about Hoyt at the time of his death in 1982.  He remembered Hoyt's hearty laugh, which signaled that he was in the building, and was often heard when he visited after his retirement.
Hoyt served as chairman of the City-County Planning Board.  He was a founding member of the Order of Daedalians, and a former chairman of the North Carolina Press Club.
Photo courtesy of Forsyth County Public Library Photograph Collection.